What the Dog Ate is what I would call a midlife novel about a woman who reinvents her life and her career after a veterinarian pulls a pair of another woman's underwear out of her Labrador Retriever's tummy. Howz that for a premise?
Kudos to author Jackie Bouchard for a funny and fun summertime read.
Truth be told, I began reading What the Dog Ate during our recent hospice vigil. The novel held my attention at a time of great upset and distraction, and, I think, that says a lot about What the Dog Ate:
Great characters and character development, including Kona (the dog)
Gritty, real dialogue
Hilarious situations (canine and otherwise)
Strong plot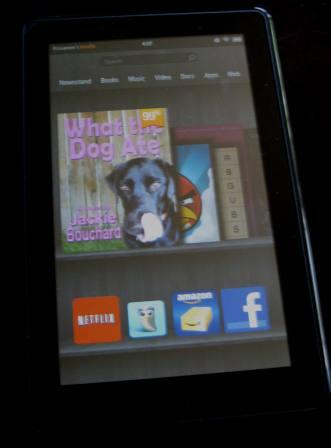 Plus, What the Dog Ate offers a glimpse into how anyone might reinvent themselves after a major life event — divorce or otherwise.
So, many thanks to Jackie Bouchard for letting her book keep my company at a difficult time. I appreciated the literary form of friendship more than you'll ever know.
The best advice I found in the What the Dog Ate?
"It's like … a dog's tale. That's it! True love goes back and forth, and you can't control it. You find that person you're in love with, and it's gonna wag. And there's no stopping it."
What the Dog Ate
By Jackie Bouchard
***
FTC Disclosure
Author Jackie Bouchard gave me a FREE Kindle version of What the Dog Ate to review. Otherwise, I was not compensated in any way for this post.