Lilly stands on the frontier of veterinary medicine as we take on the next chapter in her attempted recovery from a severe adverse rabies vaccine reaction — meningoencephalomyelitis (inflammation of the brain and lining of the brain and spinal cord).
She represents our neurology team's first use of subcutaneous (sub-Q, under the skin) cytarabine injections to treat brain inflammation. (Or, at least, first use in a long time). 
There was no code in the computer invoicing system for it.
I didn't know when I agreed to the treatment how much it would even cost.
We have no idea how long Lilly will need the injections — if they will work, how long they will work, etc.
Everything since Lilly's rabies vaccination on January 23, 2012, has required bravery. This new treatment plan meant sucking up a bit more courage from the ether since our neurologist was out of state when the first four injections were given over the weekend by the neurology technicians.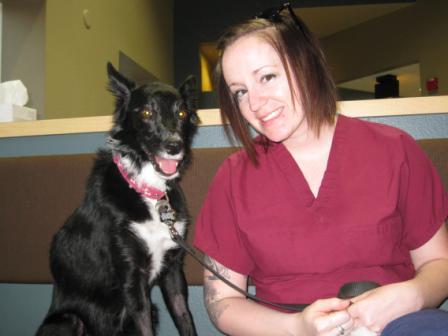 No kidding. The man NEVER takes a day off, but he did get away for the holiday weekend to visit his son … and it just happened to coincide with the 21-day window since Lilly's last cytarabine infusion while hospitalized after her massive relapse in August 2012.
Clinical worries abound — Will this work? Will Lilly survive the adverse rabies vaccine reaction in the long run? How much will all this cost in the end? …
Plus, the logistics are a BEAST — getting Lilly to the veterinary hospital for:
2 sub-Q (under the skin) injections of cytarabine / cytosine (a chemo drug that has tremendous anti-inflammation properties for cases like Lilly's)
10-12 hours apart
2 days in a row
Every 3 weeks
Until further notice
***
I spent more than an hour Labor Day writing the rest of this post about some very scary financial news that will likely alter Lilly's future.
It vanished on me. I'm so tired and so upset. I'm sure I did something stupid and lost it. I'm not sure I have the heart to recreate it in its full glory.
So, just some short, blunt notes. I'm sorry.
HEADLINES
Lilly seems to be doing well, after 4 cytarabine injections over 2 days this weekend.
The same cannot be said for me. I've been sobbing since about 5 pm Sunday night.
Financial reality has set in. Despite asking several times over several days about how much these chemo injections would cost and being told only that they would be less than a cytarabine infusion (IV bags just under $50) that Lilly received while hospitalized, it turns out that the shots are $100 each … so $400 per 4-shot cycle.
That's 2-4 times more than I was expecting when I agreed to the treatment.
$400 doesn't sound like much until you consider we've already spent nearly $16,000 so far this year. So, in addition to at least $200-$600 a month in meds and recheck costs, blood work and incontinence supplies, we'd have $400 treatments to pay for every 3 weeks.
Right now, it feels insurmountable based on my modest annual income and already frugal lifestyle. There aren't more spots I can cut in our budget. I don't own many things of value that I could sell quickly. When Lilly was hospitalized, I asked for an increase in my credit card limit and got turned down.
I went instantly to the dark place where I cannot afford what Lilly needs and that she will die because of it. That's the gutting truth.
If this treatment doesn't work, or if I cannot find a way to swing or lower the costs, then Lilly's future may be short.
If she relapses again (before I can recover financially), she will either die or need to be put down.
NEVER in my life have I had to make a decision like that. I have no words for the devastation inside me.
What I wouldn't give to take back that @#$@#$ rabies shot.
I spent part of Sunday night on the phone with our family veterinarian. I mostly cried while she talked. She feels that I've put on far too brave of a face for far too long and that the neuro team has NO IDEA that I'm at the financial and emotional breaking point.
I'm so overwrought that I'm not in much of a problem-solving space at the moment.
However, this week, I will put the following questions into the neuro team:
Confirm there wasn't a mistake and that the shots really are $100 each. (Everyone had gone home when Lilly got her last shot from one of the overnight techs, so there was no one to ask.)
Ask about getting them at a discount (somehow).
Ask about spacing the cycles out longer than 3 weeks.
See if our family veterinarian can do the injections for us. Even if that doesn't save us money, it will save me commuting time … leaving more time to work.
Set a limit on the number of cycles I can afford to do. Without lower costs, that might mean just 4 cycles.
Look for more affordable treatment options.
One of my clients is a big veterinary distributing company. I'm going ask about getting "insider" pricing on the cytarabine, if they sell it.
Others have suggested I contact the drug maker for help.
Some want to do some sort of fundraiser.
All good ideas, of course. Yet, I am spent on all fronts. Between working to have enough money to live and taking care of Lilly (which is still a 2-person, 24/7 job), I have ZERO time / energy / space left. I cannot take on one more thing. Period.
Today, I'll just be glad my puppy-girl feels OK. If I look past right now, I cannot move or my heart will stop.
***
Here, again, is our chip-in … for those who are inclined.

If for some reason you cannot see it or use it, there is also a stand-alone chip-in page (separate from our main site).
The email I use for paypal is writehawn@earthlink.net … if you prefer to find me that way.
***
A few posts that I promised WEEKS ago will go live this week.
Beyond that, I'm not sure if / when I'll feel up to posting.
***
If you are new to our story, you can see all the blog posts on the topic (since January 2012) using this Adverse Vaccine Reaction – Recovery from Meningoencephalomyelitis link or the pull-down category menu in the right-hand sidebar.