Here is the long version of Lilly's obituary, including some of the last photos ever taken of her and a few details about her final days.

Lilly Elizabeth Hawn
May 13, 2004 – December 17, 2013
Lilly Elizabeth Hawn, 9, crossed over Tuesday, December 17, 2013, after a lengthy battle with rabies vaccine-induced meningoencephalomyelitis and the side-effects of treatment.
She was my Heart Dog – my canine soul mate. Life without her feels unimaginable.
A medical miracle from her adoption in October 2004 from the Humane Society of Boulder Valley until her death, Lilly survived countless illness, injuries, and adventures, including:
Parvovirus
Pneumonia
A fight with a coyote
Two separate rattlesnake bites to the face
Paintball poisoning
And more
For 693 days following a rare and severe adverse rabies vaccine reaction, Lilly fought with everything she had. She repeatedly beat the odds and rallied in the face of seemingly insurmountable bodily failures …
Relentless brain and spinal cord inflammation
Infections (MRSA and otherwise)
Liver and kidney stresses
Blood clots
Bleeding
And,

ultimately, not one but two kinds of cancer

(nasal carcinoma, oral sarcoma) that stemmed from long-term immune suppression (required to protect her brain)
Lilly was funny and smart. She learned a number of advanced dog tricks and knew some 100 words.
I cannot remember if Lilly loved to cuddle from the beginning or if she learned quickly to love it, after we adopted her at 6 months of age. Either way, we spent a lot of time snuggled up – spawning a variety of nicknames:
Lilly Bug
Cuddlebug
Snugglebug
The Bug
Buglet
Bugaloo
Mrs. Buggleson
In her prime, Lilly looked and moved like the perfect combination of a ballerina and a kick boxer. Completely ripped with muscles, she could leap incredible heights with seemingly zero effort.
Lilly loved to play fetch. She proved to be an accomplished hiking companion, often setting a blistering pace with me huffpuffling behind her.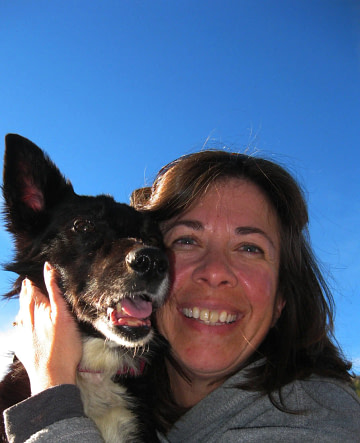 Thanks to an apparent stomach of steel, she frequently rode in the car up and down our steep, winding Rocky Mountain canyon road on our way to various adventures together. Some of my best memories include driving around in the summer with the windows down and the sunroof open – just a couple of girls having a great day.
Unlike so many of our friends with competitive titles galore, Lilly enjoyed but never competed at agility, herding, and rally. There would be no dog sport championships for us.
That's why we named the blog Champion of My Heart. It remains the championship that matters most to us.
Thanks to the blog, Lilly earned two awards in 2010:
Dogtime Media Best Dog Blog
Humane Society of Boulder Valley Community Engagement Award
Every day that I knew Lilly I loved her more than the last. I will love her forever.
I gave Lilly everything I had – and many things I didn't – financially, emotionally, and otherwise.
When she became so dangerously ill in January 2012, after the routine rabies vaccination, we fought as hard and as long as we could.
I often told people, "We're going to lose, eventually."
And, lose we did. Along the way, however, we won a million ways in every moment together – big and small.
The day before Lilly died, she smiled at my side, perched on a combination of two dog beds we'd rigged together for greatest possible comfort. She ate well, gave us probably 1,000 kisses, and was strong enough to greet her Daddy at the door when he got home from work.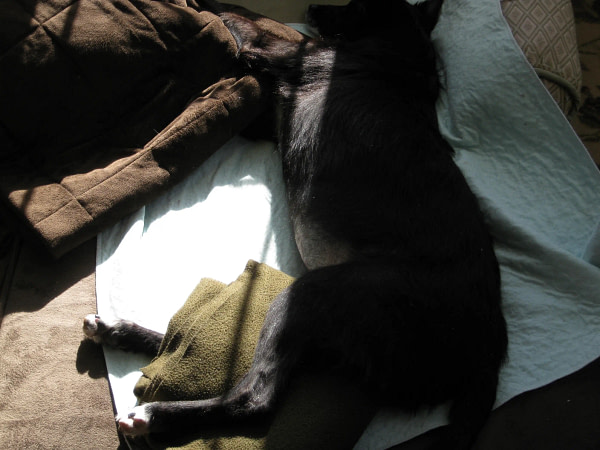 Again and again, she said "Thank you" and "I love you" with her beautiful smile and inspirational strength.
The final stage of her illness came quickly and decisively – leaving us no doubt it was time to let her go. In the days since, we've found that swift conclusion both haunting and a blessing.
Devastating doesn't even begin to describe the loss of my best, best friend. In recent years as human friendships failed me in countless ways, this dog – this brave, wonderful, miracle of a dog – remained at my side.
Matching me step for step. Breath for breath. Heart for heart.
Goodbye, beautiful girl. Thank you for everything. My life will never be the same.