On the surface, Following Atticus by Tom Ryan is the story of an overweight, independent, muckraking newspaper guy hiking a bunch of mountains in all seasons with his small schauzer — first just to do it, then the raise money for charity. Ultimately, however, it's also the tale of seeking the kind of love, peace, and spiritual boost perhaps we didn't find in childhood or elsewhere in life. I won't mince words: Following Atticus is as close to perfect as a memoir (including a dog or not) gets.
Truly. Kudos to Tom Ryan … and Atticus
I loved Following Atticus not only for the man + dog relationship and the mountain adventures but also for the hilarious insights into small town politics from his newspaper days.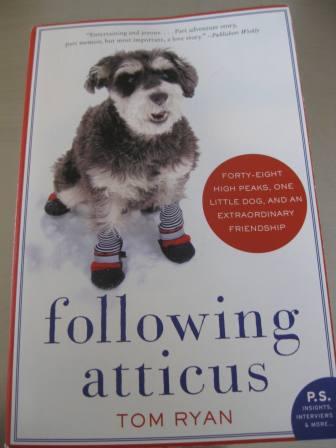 I'll be honest. I did giggle and tease the book's publicist since the peaks Tom and Atticus climb all top 4,000 feet in New Hampshire.
Why so funny?
Well, I live at about 8,500 feet and some of our regular hikes in the "neighborhood" top 10,000 feet. Here in Colorado, lots of people climb peaks over 14,000 (known as 14ers).
Take my high school friends Pat and Shelley Flood. They recently climbed Gray's Peak here in Colorado. The summit sits 14,270 feet above sea level. When I asked Pat if I could borrow this photo he had posted on Facebook, he told me that someone hiked the peak that same day with a couple of Daschunds. He joked everyone called them the "14er-wieners." Sorry, no pix of that. Can you imagine that kind of climb with such short legs? Daschunds do have trememdous stamina, so maybe it was OK.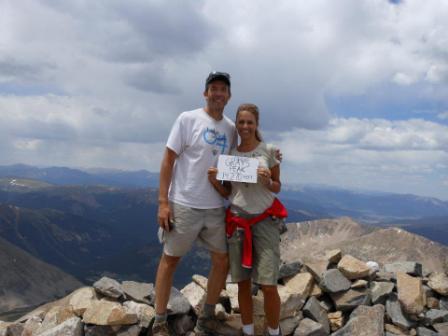 Yes, I know it's all about elevation gain and terrain. After reading Following Atticus, I understand how harrowing many of these journeys were for Tom and his small dog, but it still made me chuckle.
All kidding aside, Following Atticus hits all the right balances of:
Backstory and archetype
Action and suspense
Danger and resolution
Meaning and humor
Pace and personality
Several near-peak encounters with incredulous fellow hikers cracked me up, as they wondered — often aloud — how Tom and Atticus got up there. I even read those parts aloud to my Tom so that we could laugh together.
Beyond his brilliant writing, I also respect Tom for ALWAYS putting Atticus first. If Atticus ever balked, they skipped the hike or turned back. If the peak-top weather reports looked too dicey, they stayed home. Tom always had food, water, and protective gear for both of them.
This is important because other people have NO COMMON SENSE. There is a man in Colorado who is currently facing animal cruelty charges for taking his dog up on a mountain and then abandoning her there when she could no longer hike out because her paws were too damaged.
DAYS LATER other hikers found the dog near death, but they too could not carry her out alone. When local authorities refused to use rescue resources to get the dog, these other hikers organized their own rescue team and got the dog down the mountain. She is being cared for at a local veterinary hospital.
Tom was always VERY careful to bring protective clothing and footwear for Atticus, if weather and terrain demanded it. He'd done his research and knew how temperatures and other conditions might affect Atticus.
Even if the two of them did ever get into trouble, I truly cannot imagine Tom leaving his four-legged friend injured on a mountain.
***
You'll find some interesting dog training and dog socialization examples in the book as well. Of interest to longtime readers of Champion of My Heart will be the fact that Atticus was a singleton puppy. He was the only puppy in his litter.
I'm tired and distracted so I cannot remember for sure where I read about singleton pups in all the dog training books over the years, but unless they are handled well from the get-go, singleton pups can have all sorts of behavior problems. Personally, I'd never knowingly adopt a singleton pup, but that's me, and I've already been through a lot on the dog training front.
Atticus' breeder and Tom must have done something right because he turned out with a solid temperament, including being calm and confident enough to go on book tours with Tom (something I'd NEVER be able to do with my fearful Lilly).
Tom clearly adores his canine soul mate. Call it kismet or luck, but they were somehow destined to be together and to take this journey.
Be warned, however, Tom is NOT a pookey-schmookey kind of dog lover. You'll never see Tom deign to speak for Atticus or even jokingly put words in his mouth. Tom also is not a make-things-happen-through-dog-sport guy either. Tom simply lets Atticus be his own dog … 99% of the time off leash, even in public.
***
Loving dogs aside, I think you'll like this book as much as I did …
If you've ever worked at a newspaper covering small town politics (or like me live in a small community where it's not unheard of for people to get death threats or to paint graffiti on rocks saying things like, "Suck it, <name of enemy>!)
If you've ever loved to hike mountains (or at least been curious)
If you've ever sought and been disappointed in family relationships
If you've ever realized you needed to make a big change in your life
***
FTC Disclosure
Trish, the publicist for Following Atticus sent me a review copy for free. Otherwise, we were not compensated in any way for this review, and we voluntarily took part on the book's virtual blog book tour.
I haven't decided yet what I'll do with the review copy of the book. I may pass it off in the veterinary hospital lobby to the next schnauzer family I see.