Book Review: Animal Wise by Virginia Morell
Animal Wise: The Thoughts and Emotions of Our Fellow Creatures by Virginia Morell is a deeply researched trek around the world and into the minds and talents of creatures large and small. Beautifully rendered profiles of animal-intelligence researchers and their subjects make sometimes complicated topics accessible, thrilling, and fun.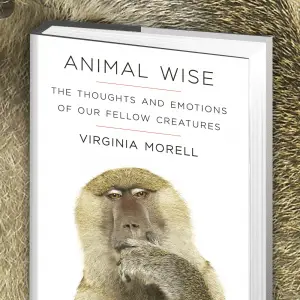 I won't give away what makes Animal Wise unusual in the world of those who consider animal intelligence, emotions, and self awareness. Suffice it to say that Morell never asks nor answers the question that obsesses others on this topic. And, I love that about her.
When you read Animal Wise, you'll learn all kinds of neat things:
How ants (yes, ants) instruct one another and work in teams
Why fish really do think and feel (including pain) and how many complicated calculations they can make while hunting
Which birds use tools and solve problems as good or better than primates (Hint, some even show artistic motivations)
How the late Alex (an amazing parrot) changed everything and why it's such a loss that he died
Why matriarchal elephants hold the key to survival
What dolphins have taught us about the depth and use of their social relationships
What chimpanzees and TV's Sheldon Cooper (The Big Bang Theory) have in common
How dogs and wolves are different and what role dogs now play in all manner of learning research
Here are a couple of lines from the dog chapter that I loved:
On social attachment and convergent evolution: "… We now know that dogs long to be with humans almost from the moment they open their eyes."
On bonding with adult dogs: "The researchers discovered that even adult dogs living in rescue shelters rapidly form attachments to people; it took a mere thirty minutes of interaction between a person and an adult shelter dog for the dog to begin forming a bond."
OF NOTE: Fair warning, the book includes some heart-wrenching tales of what sometimes happens to research animals. There is also one really ICKY story of a  female research assistant having intimate contact with a dolphin. (Not kidding.) And, the word "dominant" does appear a couple of times in the dog / wolf chapter … referring mostly to the wolf pups. (Longtime readers know my take on that as applied to pet dogs.)
That aside, I think you'll really enjoy traveling around the world at Morell's side, meeting the top minds in so many interesting fields. She is terrific at picking out the data that helps tell the story without bogging you down.
This is probably the best science journalism I've personally seen. 
Morell, a prolific contributor to National Geographic, Discover, and Science, is also the author of Ancestral Passions, a  New York Times Notable Book of the Year; Blue Nile; and  Wildlife Wars, which she co-wrote with Richard Leakey.
She currently shares her life with an American Working Farm Collie named Buckaroo (Buck).
Animal Wise (published by Crown ~ February 26, 2013)
Animal Wise (hardcover) $15.95
Animal Wise (for kindle) $13.99
***
FTC Disclosure
Virginia Morell is the friend of a friend of mine. I agreed to review Animal Wise as a favor to them both. The book's publicists from Crown Publishers sent me a free uncorrected proof / review copy. I was NOT compensated in any way for this review.