A Week Later: Champion of My Heart News
From sheer exhaustion and worry, I'm a weepy mess right now. I probably shouldn't even try to write, but I know many of you are worried about Lilly. She is OK. Not great, but OK. Here is the latest news.
When last we posted, I didn't have much context for Lilly's veterinary test results from last Friday — following her first seizure in a year and her peeing blood.
I've been able to piece together some understanding with help from friends with a variety of areas of expertise. I did speak briefly to our main veterinarian Monday morning. I did get a chance to share test results with Lilly's physical therapist and her veterinary acupuncturist — the newest members to Team Lilly.
Veterinary Test Results Corrections and Updates
Here are a few corrections / updates / insights:
Lilly's enlarged liver and small adrenal glands are likely the result of a year on steroids.
Lilly's kidney numbers are fine. (I misread the report.)
Lilly's liver numbers aren't as bad as they could be, considering everything.
Her overall white cell counts are normal (even though individual ones are squirrely).
The ultrasound expert felt that Lilly's internal organs looked remarkably good, considering everything.
Here is the ultrasound image of her bladder. The arrow points to a brighter line on the image that, I believe, indicates the gas build-up in her bladder wall.
Lilly News
Lilly has NOT had another seizure. Her urine turned pink again overnight, though. I called our main veterinarian to report that change first thing this morning and found out that her urine culture didn't show anything strange (bacteria wise), so we're going to stick with the antibiotic ZENIQUIN for the full 14 days.
Lilly has been tired and wobbly off and on all week. It scares me because that's how her massive brain inflammation relapse in August began, but so far, nothing has progressed to anything consistently worse.
She sleeps most of the day and 10-11 hours straight at night. She looks pretty good most mornings, then wilts as the antibiotic hits her system. (We think it makes her feel ooky.) Potty accidents continue, but Lilly is sometimes squatting and peeing on her own, which she hasn't done consistently since last summer.
Our fears are that this infection has been brewing a long time — possibly back to June when her incontinence first cropped up. We'd been blaming her terrible breath and reeking urine on the cytarabine injections, but now we wonder if they weren't indicators of the infection.
I feel terrible that she may have been suffering all this time, and I didn't know it.
Physical Therapy News
We've added the girls at The K-9 Body Shop to team Lilly. We braved a ground blizzard Wednesday to grab a time slot someone else gave up at the last minute. We nearly got stuck in our own driveway twice trying to get up to the road.
Right now, we're doing about 15 minutes of at-home physical therapy exercises each day:
Massaging her neck, shoulders, and spine (30-60 minutes each night)
Challenging her balance by pushing her side to side or holding up 1-2 feet
Doing agility weave poles (We need to bring a set inside because her home course is snowed in still.)
Walking a makeshift ladder to work on foot placement
Doing figure 8s, going both directions (I only taught it going one way, so it's actually hard for both of us to go the other direction.)
Rolling the gym ball (Lilly's pre-existing circus trick, where she walks behind the ball and pushes it with her front feet. I help hold her up with her body harness.)
Working on her core using the gym ball (Lilly rests her elbows on the ball, while I move it all directions.)
We're also supposed to take real walks, as Lilly's health and the weather allow. She has been exhausted, and it has been windy / cold all week, so we haven't gotten out at all.
We go back next Friday for her first official rehab appointment. I'm not sure what all we'll do, but the plan is to put her in the underwater treadmill for a bit. I'll try to get pix.
Acupuncture News
Based on a referral from The K-9 Body Shop girls, we called Dr. Marie Bartling, who is an independent veterinarian certified in acupuncture and chiropractic.
We were lucky to catch her on a day she was working at a horse facility near our normal veterinary hospital. I just bring a blanket, and we sit on the horse office floor for Lilly's needle treatments.
I forgot my camera. Sorry no pix.
BUT, Lilly handled the needles really well. She did pop up a couple times, but we were able to get her to relax again. I didn't count, but she had a bunch of needles in her tail, legs, feet, back, neck, armpits, and head.
We spent a little more than an hour with Dr. Bartling. She did points to address:
Incontinence
Immune system balance
Liver function
We see her again next week as well. She works at a variety of clinics each week, but for now, it looks like this horse facility in Golden is a good option for us to connect.
Neurology News
I've not yet had the chance to discuss these developments and test results with our neurology team.
***
Oh, the Worry
***
I'm working VERY hard to take care of Lilly at home as we try to get her past this infection and see what comes next.
I honestly do NOT know how this is going to turn out. I have fears, though … lots of those that often lead to a couple of hours of sobbing in the middle of the night.
I used to say that we didn't know if this brain inflammation was fatal. Now, I'm starting to wonder if I've been kidding myself. Despite our best efforts, it indeed might be fatal in the long run.
I hope I'm wrong about that, but in the meantime, I'm doing my best to improve her quality of life through additional physical therapy (which she seems to think is play), acupuncture, and even more one-on-one time together.
Heck, she is even sneaking in some cuddle time with Ginko when she feels rotten. They almost NEVER snuggle, but the other night, Lilly scooted over close and used his butt as a pillow.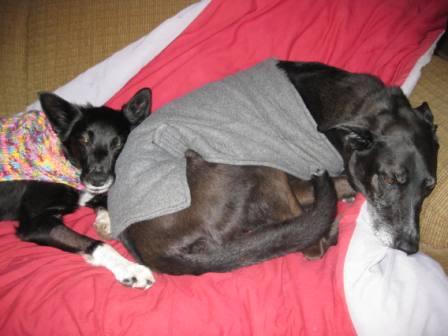 You can always watch our Champion of My Heart Facebook Fan Page for updates. Sometimes, it's MUCH easier to throw something up there, than to do a real blog post.
BUT, I'll try to get some pix of Lilly at therapy and Lilly at acupuncture to share.
Right now, things are status quo. Not great, but not terrible either (except in my imagination).
Thanks to all of you for your love, concern, and support. This is a lonely, weird time for me, and your enthusiasm for Lilly means the world.