The Funny and The Not So Funny Moments of Having a Dog With Neurological Deficits
Sometimes we have to laugh at the predicaments spawned by Lilly's ongoing neurological problems — otherwise, we'll cry. Here are a few examples of the funny and the not so funny moments in our lives.
Funny
While driving home from Lilly's fourth and final cytarabine injection recently, she began mumbling and rumbling in her crate. Now, Lilly is typically quiet in the car, so the more she "talked," the more I talked back. We weren't saying anything in particular — just noises.
Then, all of a sudden, she began howling.
Usually, I have to cue a good howl out of our intrepid canine heroine, as seen in this howling video page, which includes a darling, old video of Lilly laughing, but she began singing on her own.
Who knows why? But Lilly decided to bring the hills alive with the sound of music.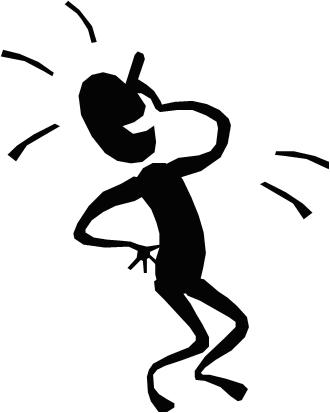 Funny
We've joked on Facebook about our macabre and often crass humor that helps us cope with the caretaking stress, a full year into our brain drama with Lilly.
Lilly only gets about a 3-5 second warning before poops start coming out. This rotten incontinence!
When she has a dog diaper on and this happens, her tail sticks out / up at a funny angle, and she starts walking weird toward the nearest door.
And, I know this is a bit obscene, but we call that particular look … a butt boner.
I know. Icky. Tacky. Gross.
But, that's exactly what it looks like, so anytime Lilly needs to poop, you can hear me or Tom shouting, "Butt boner!" and see us racing Lilly outside to finish her business. It makes us laugh.
Once, during a work conference call, Lilly began pooping. You'll be happy to know that I managed to change her diaper while maintaining full professionalism and without yelling, "Butt boner!"
Whew! That was close.
Not So Funny
Sometimes I suspect that Lilly's vision is impaired some days more than others. Last week, it manifested as her refusal to walk on my left side during our stroll up the road and back, but it also resulted in her crashing into a couple of walls.
The worse crash happened when Lilly tried to sass Ginko on his way outside to potty. He gave her a stern body-check because, frankly, he gets sick of her crap.
Because she hadn't judged the gap between Ginko and the wall properly, Lilly:
Crashed into the wall
Fell down the step between the hall and the living room
Flipped onto her back and stayed there like a stranded turtle
It broke my heart. I had to help her stand up. She was uninjured, but it's a clear example of her ongoing physical / neurological deficits.
Not So Funny
New Year's Eve it has become a tradition to share a simple family meal with some neighbors. I had just showered and put on cute (not fancy) clothes before the party.
Then, Lilly walked up reeking of poop. Stink-o-rama.
Usually, it's just a matter of a quick diaper change — no muss, no fuss. But, this time, Lilly had suffered a bout of diarrhea.
I won't skeeve you with the details, but it was gross. Nonetheless, I got her cleaned up before we left for the party, where all the dogs were stuck to me … *sigh*
Not So Funny
Last Thursday morning Lilly woke me up early, and I found her completely covered in stink. She hadn't pooped, and she hadn't really peed in her crate / bedding any more than usual, but it's almost like she was covered in smelly Vaseline.
My best guess is that the baby wipes I've been using to keep her clean between baths must have left some residue that reached critical mass, but she was gross.
I mean gross, beyond gross.
Now, I'm a tiny bit barfy when it's early and I'm tired anyway, but I nearly threw up on our poor girl. She smelled that bad.
So, even though it was early, even though it was like 50 degrees in the back bathroom, into the shower we hopped. Then, I did a couple HUGE loads of laundry.
**
I do my best to take it all in stride ~~ the ups and the stinky downs. Honestly, if we could *just* get the incontinence under control / improved, things would be almost normal … or, at least, I'd have more time to work on Lilly's physical therapy and neuroplasticity work, rather than constantly cleaning up her, myself, and the house.
**
P.S. Lilly had an neurological exam / recheck appointment today. I'll try to get the latest news posted soon.