Best Budget Squeezing Strategies for Desperate Dog Moms
Depending on where you live and work, my ideas for cutting household expenses to help pay for pet care may not work for you, but here are my Best Budget Squeezing Strategies for Desperate Dog Moms.
Background ~ 1 Year, Nearly $17,500 and Counting
January 23 will mark the one-year anniversary of this particular veterinary drama that began when Lilly suffered a rare and terrible adverse reaction to a rabies vaccine (every post about it available via the link).
Oh, sure, there have been so many other medical scares with her in years past — rattlesnake bite #1, rattlesnake bite #2, paintball poisoning, mysterious lumps.
While expensive, they, however, were short lived … meaning I had time to recover financially.
This time around, with costly treatments potentially required for the rest of Lilly's life (estimated around $8,000 in 2013, assuming status quo and no major setbacks), I've had to make even more cuts in my normal budget, which is already pretty frugal.
TMI and Memoir Writing
I've debated whether or not to share some of the financial realities of Lilly being so sick for so long. Then, I came across some advice for memoir writers about vulnerability in your writing that said, in part, "Most often in memoir the narrator's vulnerability originates from sharing stuff most of us want to hide …"
I've also talked about it with one of the receptionists at the specialty veterinary hospital, who has faced similar situations with her cats and has seen me have emotional breakdowns in the lobby over medical and money worries. She encouraged me to tell the full story, money details and all, because she agrees that people assume I must be "rich" to be able to do what I'm doing for Lilly.
I am not. I'm just a normal middle-class girl, with a normal middle-class income … except I'm self-employed, so every dollar I make comes from making something happening in my career.
So, I jumped into the financial fray with Friday's post >> The Cost of Keeping Lilly Alive.
I lost 2 email blog subscribers after that went live.
It happens. Particularly when I haven't posted for a while, then begin again. And, goodness knows I, myself, have been on an unsubscribe kick in the New Year because I get so … much … email. So, it may not have anything to do with me talking about a taboo thing. I'll never know.
In addition to telling our story, I'm casting about for ways to make what's happening to us useful to YOU. Here is my latest attempt to do that. 
*
*
*
Best Budget Squeezing Strategies for Dog Moms
These ideas will NOT help when HUGE emergency veterinary bills crop up. Good pet insurance (not the kind I have), emergency savings, credit cards along with YOUR help got me through the big bills. Thank you!
These ideas, however, might keep you afloat when ongoing treatment expenses add a few hundred dollars (or more) to your monthly budget for many months (or years).
1. Turn down / turn off the heat. Really. 
This idea isn't new to Lilly's illness. We've always been austere with the heat in this house, but we've gotten much more brutal about it this winter.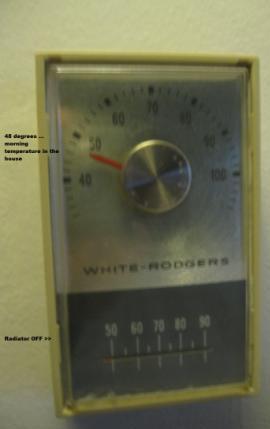 It's cold on our mountain, even in the best of times. We heat mostly with wood in the main fireplace ~~ only firing up the wood stoves in the bedroom or basement if things are CRAZY cold, like below zero for many days.
Unless, the temps stay below 20 all day, we do NOT turn on the radiator zone that includes my office. Usually, I opt for a little space heater in my office instead.
Even then, any "heater" is only on during the day until the house warms up … usually around lunchtime, if it's sunny out.
We never turn on ALL of the radiators.
Most mornings, we awake to a temperature INSIDE the house of 50 degrees or slightly below. Even with the radiator going and the main fireplace roaring, it's considered WARM inside our house if it is 60 degrees. The best we ever see in winter is about 68 degrees.
As we can afford it, we're replacing old windows and such, but we have a long way to go until our "old" house (built in 1978) is winterized in a true sense.
When we first moved in 2001, I used the radiators like we used our furnace at our first house. Then, I saw our outrageous electric bill and stopped. (The house is ALL electric. No gas. No propane.)
2. Do much less laundry.
The energy needed to wash and dry clothes adds up, and if you pay for your water usage, then that's another expense. Since we have a well, we don't pay for the amount of water we use, but if something happens to the well or pump (as it did recently with the onslaught of Lilly incontinence laundry), it's expensive.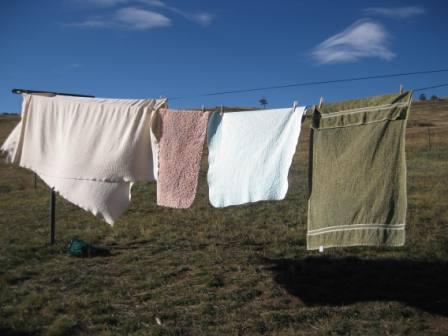 We do have and did replace our clothes dryer when it died due to Lilly laundry, but 95% of the time I hang clothes outside (yes, even when it's cold). I also have clotheslines in the basement that I use if it's just too-too cold outside or snowing.
Again, this isn't new to Lilly's illness. I've always been a fan of clotheslines.
However, to offset the 1 additional laundry load a day required by Lilly's ongoing, rampant incontinence (both ways), I do much less of our own laundry. How?
I wear everything (but base layers, of course) several days.
I only wash big things like sheets / towels every 2-3 weeks.
Especially on days when I don't leave the mountain, who cares what I'm wearing? No one.
3. Take shorter / fewer showers.
Creeped out yet? On days when I don't leave the mountain, I often don't shower to save the cost of heating water, drying my hair, etc. Again, no one sees me other than Tom and the pups, so who cares?
I freshen up, of course, but I don't waste water / energy / time making myself pretty when it doesn't matter.
4. Eat less meat.
Grocery prices are getting silly for a number of reasons. So, to eke out a bit more money in the budget to pay for Lilly's medicines, for example, we eat less meat … often having some sort of homemade bean soup several days each week in the winter or salads from the garden in summer.
Actually, we're eating (or buying) less, in general … especially pricey extras.
Don't worry. We're not missing any meals. We're simply reconfiguring what a "meal" means around here, and we're maximizing the leftovers, even more than we always have.
5. Slash entertainment.
No movies. No meals out. Almost no bought books. No music buys.
Maybe once every 2-3 months, I'll meet a friend for an inexpensive lunch, but that's about it.
Our "entertainment" comes from satellite TV, but I'm looking at cutting back our already basic package. (We've never had "premium" channels.)
It's also really tempting to drop the DVD portion of Netflix since I'm watching more streaming stuff, but DVDs are the only way we can see somewhat recent movies together, so I probably won't cut that yet.
We've been reading a lot more, including books we already have or borrow or those I can get for free on the Kindle, through the library or one-day freebie downloads.
6. Ditch the fancy phone and unlimited plan. Go prepaid.
Until VERY recently, Tom and I shared 1 prepaid cell phone. Not a smart phone. A stupid phone that's only a phone ~~ nothing else.
He has his own phone now because sometimes we're both down in town and need to reach the other or a client.
When our then-shared cell phone died early in 2012, my niece went with me to the store (on a break from the hospital when my mom was in the ICU). She was DEVASTATED on my behalf that I got a plain old phone.
She tilted her head, touched my arm, and with a pained expression, said, "Oh, Auntie, don't get the crappy phone."
I had to laugh. She felt so sad for me.
Why so staunch on the cell phone situation?
Because there is ZERO cell service on the mountain or in the canyon. None.
So, it makes no sense to have an expensive phone and a pricey monthly plan that ONLY gets used when I'm in town … and even then, rarely.
Trust me. I would ditch our stupidly expensive land line, if I could, but I can't.
In 2012, with our phones and prepaid minutes, I think I spent only about $300.
7. Put off everything you can. 
Haircuts, for example. I went without one for much of 2012, but when I had to take a business trip in December, I broke down and got one. That $50 represents one of Lilly's cytarabine injections.
So, if I look scruffier than you think I should in coming months, see the longer hair as my solidarity for Lilly.
I'm also making a game of putting off anything I think I want or "need." Take sneakers. I probably do need a new pair. Mine are like 5 years old, have holes, etc. But, I'm putting off getting any … it's almost an experiment to see how long I can go.
Other ways I scrape up money for Lilly?
We didn't exchange many gifts for the holidays.
I've NEVER in my life had a professional manicure or pedicure.
I've NEVER colored my hair.
I use over-the-counter / inexpensive skincare stuff.
I don't pay for gym memberships or exercise classes.
We haven't taken a vacation since 2001.
I don't buy many new clothes.
I got my ancient iPod as a fund-raising prize.
I've never owned a brand-new car.
You get the idea. I'm not a spender, not a "thing" person.
And, yet, when I heard recently about a puppy rescued from being frozen to the ground, I sent $10 to the humane society. Or, when I learned a dear friend and former colleague was in the midst of an ICU vigil over the weekend, I promptly sent $65 in food gift cards.
I will spend. I do spend on family things (like food, health insurance, household bills). I will treat myself if I feel desperate, but I try to focus on what's important. And, I take a sort of macabre satisfaction in "depriving" myself to make Lilly's life better. Weird, I know.
***
I suppose it is all a matter of priorities. Behind only our house and my education, Lilly's care ranks #3 in my all-time-high life expenses.
I've never spent this much on anything, including any of the cars I've ever owned.
Even our wedding 20 years ago and the VERY few big vacations we've taken over the years pale in comparison.
We've always spent quite a bit on our dog's veterinary care, but I admit … there is something about THIS DOG at THIS POINT in my life that is different.
While nearly everyone else I love has been dangerously sick and / or dying (over the last nearly 5 years), THIS DOG, this amazing, brilliant, sensitive dog has ALWAYS been at my side. Always.
And, now, it's time for a little pay back.