New Year, Same Lilly
We're back. After 12 glorious days "off," Lilly and I find ourselves nearly ready to begin a new year. We spent 7 of those 12 days home all day in a binge of Silly Lilly Whatever Days. We slept. We walked. We hung out. We were grateful. We've seen a few blips since our last regular reports, but all in all … Lilly is steady and doing well 21 weeks since her massive vaccine-induced brain inflammation relapse. 
Our previous record in spring 2012 without a setback was 9 weeks. Lilly isn't 100% of her old self and likely never will be. Other than some funny strength / energy boosts that last a day or so, we've not seen any real improvements or setbacks.
For a couple of weeks in late 2012, Lilly did seem REALLY tired. She wobbled a bit a couple of times when she first woke up and tried to walk, but the trouble didn't progress. So, I tried not to worry.
The post-chemo boost we typically see the Thursday after her sub-Q cytarabine injections came a week or so late this last time. When Lilly woke us up every 2 hours one night, I assumed she wasn't feeling well. Tom took over when I needed sleep, but when he and Lilly got up for real the next morning, he told her. "Go get mommy!"
To all of our surprise, Lilly raced down the hall, jumped onto our bed (which is pretty high), and STUCK the landing — for the first time in forever. Tom and I both heard her jump and held our breath for the likely thump on the floor to follow, but she cleared the edge of the bed no problem.
Before Lilly got sick, she could jump onto the bed without effort — sometimes nearly floating straight up from a dead stand-still. It isn't that we don't practice jumps — agility ones and otherwise. It's just that Lilly doesn't have the strength and coordination to jump like she once did.
Lilly hasn't even tried to jump on the bed again since, but she seemed so pleased with herself in that moment.
All of us miss snuggle time in bed. Because of Lilly's wobbliness and incontinence, there is MUCH LESS cuddling. Lilly understood that THIS was her chance, so upon landing the jump, she immediately flopped herself flat on top of me and put her head on the pillow next to mine.
There we were … belly to belly, cheek to cheek, giggling.
It turns out that fussy night meant Lilly felt GOOD not bad, and she wanted to play, Play, PLAY, so the snuggling didn't last long, but we celebrated it nonetheless.
The only other big news is that we've finally worked our way up to 2-mile walks. We aren't fast, and sometimes it isn't pretty, but Lilly can now walk 2 miles total, up the mountain and back … as weather allows.
It has been quite COLD her in recent weeks, so we cannot go every day, but we walk as much as we can.
I worry about Lilly's ability, now, to handle the cold, so she had been wearing either her ThunderShirt or a hand-me-down fleece blanket coat I made eons ago for our late Dalmatian, Penelope Grace (sorry the photo links aren't working).
As we gird our budget for the ongoing veterinary expenses to keep Lilly alive, I try NOT to spend on anything that isn't 100% necessary. Yet, I saw this dog parka ($40) and had to get it for Lilly on New Year's Day. It's fleece on the inside and a wind / water barrier fabric on the outside. It's a tiny bit big in the chest, but otherwise this L/XL size from Petco fits well.
We did try a little sledding over the holiday, but Lilly just doesn't have the strength / balance for it. I feared she would hurt herself, even trying to sit in the slippery sled. She is wearing Penelope's old "coat" here. Clearly, it's too big.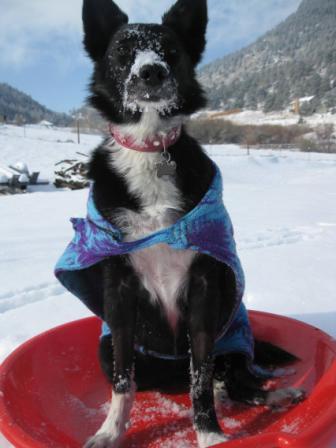 We celebrated the holidays with my family early (December 22) because it's easier to get together, now that everyone is married, on a day other than the actual holiday. I look pretty schlumpy most days, so I asked Tom to take a photo since I was finally somewhat dressed, with my hair combed, and a little make-up on.
Lilly has another chemo weekend / cytarabine injection weekend coming up, so while we try to get back into the swing of work again, we're getting ready for that. I'll need to ask about Lilly's mouth sores because one has turned into a somewhat permanent lump.
BUT, before we go for the night, here is one last photo from the holiday that makes me giggle. Holding feet!