Sleep Deprivation and Dogs with Long Illnesses
We're dog tired here at Chez Champion of My Heart. About 10 months into this medical saga with Lilly's rabies vaccine-induced meningoencephalomyelitis (brain inflammation). Between being incontinent (both ways) and fussy at night, we haven't gotten a good night's sleep in a long time. So, this week, we're trying yet another strategy.
Everything we've tried so far… dog calming music, oatmeal at bedtime … seem to help significantly for a while, then we're back to 4-5 wake-ups per night.
It wouldn't be so bad if I had the ability to fall back to sleep. I don't. It takes me 30-90 minutes each time, and if there are more than a couple wake-ups, then there goes the whole night.
My brain clicks on and runs an inventory of all my:
Work and personal worries
Aches and pains
Emotional distress and preemptive grief
For this reason, Tom often handles nighttime duties with Lilly, but it's taking a toll on him as well.
Lilly cannot wear a dog diaper to bed because of fears she will eat them. Yet, we worry about her potentially laying in a wet or soiled crate. That means every cry earns her a trip outside and a clean-up, if necessary.
When Lilly came home from the hospital the first time in February, she slept in our bedroom in a crate for quite a while before graduating to a crate in the dining room so that we didn't have to hear every single rustle she made at night.
When she came home from the hospital in August, we did the same thing. Keeping her with us in the bedroom crate for a while, then the dining room.
Now that she seems somewhat stable, we're asking her to sleep in the basement (where she and Ginko have always slept).
Rather than potentially trapping Lilly in a crate with her own mess, we're using — for the first time in my dog-loving life — an x-pen. There went another $100+, including hardware to secure it to the basement walls, once we know for sure it'll work. I know you can buy them cheaper online, but Tom didn't want to wait. Getting this solution deployed was worth the extra $$ to him.
We're that desperate.
LILLY'S NEW BASEMENT BEDROOM: We're using a corner and the 2 walls as a backbone to Lilly's new basement bedroom, which includes:
A crate with blankets and a washable pee pad on top, door off, blanket over (for warmth)
A trash-bag wrapped dog bed (the cover was in the laundry when I took this pix)
Some bathmats and towels as a backup bed
Our basement is unfinished, but we've painted the concrete walls and floor to brighten it up. The spots on the right-hand wall that you see are from playing ricochet fetch with Lilly in the winter. Dirty ball. Dirty spots on the wall. (I guess I should clean those off.)
That's our tiny, 2-person sauna you see on the left. We bought it at a garage sale a couple summer's ago for $400. It's nice to sit in there and be warm in the winter.
In all weather, the basement stays a constant 50-55 degrees. It's always much warmer in the covered crates.
For perspective, Ginko's crate is just beyond the lower, right-hand corner of this picture.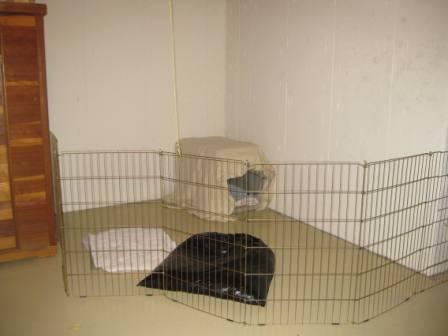 For now, Tom has secured the x-pen "door" with a clip and nylon string tied to a framing board that holds up our electric baseboard heat boiler.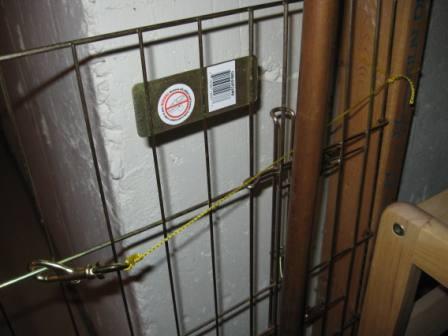 He also secured the middle part of the x-pen to a nylon string tied to an exposed floor joist above. In theory, even if Lilly throws herself at the x-pen, it won't topple (as easily).
If this solution works (long term), then Tom will drill attachments into the concrete walls (and maybe the floor) to make the x-pen more stable, permanent.
We're tempted to try another corner in the basement that's closer to a floor drain, which would make clean-up of a major accident easier, but for now, this corner is a good option.
HOW IT WORKED – NIGHT #1: Wednesday night into Thursday morning was our first try with putting Lilly in the x-pen overnight. She barked and fussed for about 30 minutes when we first put her to bed. We ignored her.
I woke up around 2:30 am, staying awake until nearly 4 am. I assumed more out of habit than anything, but I heard Tom rustle. I whispered, "Have you heard any noises?"
He whispered back, "She barked once around 2:30."
I guess that's why I woke up. I'm sure it'll take a while before we truly can sleep through the night because we've gotten so used to waking up a lot.
When I went down to get Lilly for breakfast around 7:30 am, she seemed fine, and there was only one pee accident on her dog bed (that's why the cover was in the wash).
There were no signs of a poop accident, so either she was OK, or she ate what came out.
I do sometimes worry about Lilly's housetraining, if her incontinence ever resolves, but for now … we're just doing our best to make sure she has a clean, safe place to stay when we are gone or when we're asleep.
Plus, I figure an x-pen is never a bad thing to have in the house for future puppies that may grace our lives.