Send to Kindle
Again, I'm mostly too tired to be coherent, but here is the top news about Lilly's massive adverse rabies vaccine reaction relapse.
***
Lilly has suffered a massive relapse — worst than her original onset. Lilly first developed meningoencephalomyelitis / meningoencephalitis (inflammation of the brain and lining of the brain and spinal cord) after an adverse vaccine reaction to a rabies vaccine given January 23, 2012.
***
The phone rang around 6:30 am this morning, which is always scary, but it was our veterinary neurologist calling to say he was getting started on Lilly's MRI and spinal tap.
We'd been waiting for the massive doses of steroids, antibiotics, fluids, and other medicines to make Lilly stable enough for anesthesia and these procedures.
I asked, "You think she is strong enough for this?"
He replied, "She is as strong as we can get her, right now."
I'm happy to say that Lilly did fine under anesthesia and that the procedures went smoothly. I got that news around 8:30 am. While Lilly remains almost entirely unable to move / stand / walk, she did *try* to stand for the neuro team when they were prepping her for her procedures.
This onset of brain inflammation is much WORSE than last time. It's centered (as before) in her brain stem and cerebellum.
Lilly has far more white cells in her spinal fluid this time. That fluid has been sent out for lab tests, initially on the proteins. Depending on those results, they might also send some out for virology tests.
Because Lilly's brain stem is so heavily affected this time — along with her cerebellum — that explains her new troubles with a scary-low heart rate (in the 50s).
Today, she also suffered hypothermia, after coming out of the anesthesia. Her body temp was 99.2 … compared to 104 a couple days ago. (Normal is 101-ish.) So, they placed bottles full of HOT water under blankets in her cage.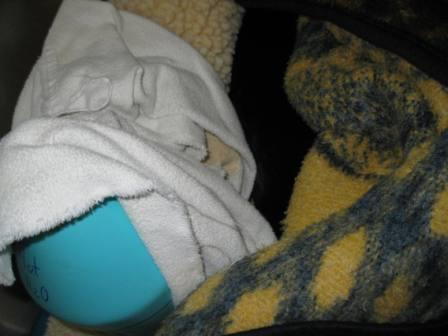 Lilly also had an IV line fail today, which led to some swelling in one front leg. So, they've moved her IV to a rear leg. It looks like she got poked a lot until they found a spot. At least the line failed before they started her chemo meds.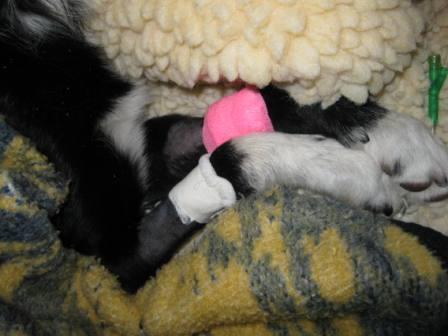 Lilly remains incontinent as well, but I suspect those functions are also in the brain stem … which would mean this relapse has been building for at least 6 weeks when her total incontinence started out of the blue.
I had high hopes for our short visit this afternoon, but Lilly still looks to be about 5% of herself. Our neuro team is MUCH more concerned with her mental / responsive dullness than they are about the fact that she has almost zero motor control.
They started her (once again) on a 36-hour cycle of that chemotherapy drug often used for lymphoma. Lilly gets smaller doses than if she had cancer, but it's a powerful anti-inflammatory. It worked last time. We hope it works again.
There is NO timeline for Lilly's:
Improvement
Ability to come home
Prognosis
New treatment plan
Our neurologist is being cautious in our conversations. I've just now spoken to our family veterinarian, and she said when she first heard the news from him that she too wondered if Lilly would survive. She is still concerned.
So, for now, we take it a moment at a time. The neurologist mostly reassures me that Lilly is getting the intensive care and attention and help she needs. And, for now, that has to be enough.
Here is a short video from today.  I'm not sure the embed will work, and I'm too tired to fix it, so use the link, if you cannot see the video on this page.