Keep Kids and Pets Safe This Holiday Season
I've been lucky enough to interview Dr. Sophia Yin several times for dog behavior and dog training articles. If you're looking for detailed, science-based information on dog training and dog behavior, her site is a great place to look … especially if your dog interacts with kids at all … and you want to prevent accidental dog bites.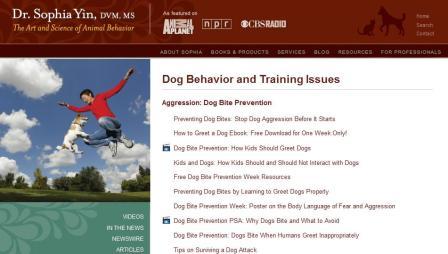 You can click through her to see Dr. Yin's extensive library of dog behavior and training resources.
One of my favorites is this video PSA about how scary kids can be to any dog, especially a fearful one. (Imagine this + kids in Halloween costumes … eek!)
Before the holiday season gets into full swing (with guests coming and going), I think it's a good reminder to keep an eye on your dog's body language. If you click through here, you can download a free poster on dog body language.
A while back I posted a link to this video on my Facebook personal page, and I got lambasted by a "friend" because she blames dogs and dog owners, not kids, for dog bites. She believes it's the dog's family's responsibility to train the dog not to bite.
Well, I think it's a two-way street, where dog moms and people moms work together to keep EVERYONE safe.
And, I would add this question … Who has the bigger brain? Who has a greater capacity to understand that their actions affect others … a child or a dog?
Dogs cannot say, "Stop it." They do not have hands to push someone way. They have their body, their voice, and their teeth with which to communicate. We just need to watch and to listen better.