3 Dangerous Instincts That Put Dog Lovers in Danger
Dangerous Instincts: How Gut Feelings Betray Us is a new book by Mary Ellen O'Toole, PhD, a former FBI profiler. She is a friend of a friend and was nice enough to offer these safety tips to people who love dogs.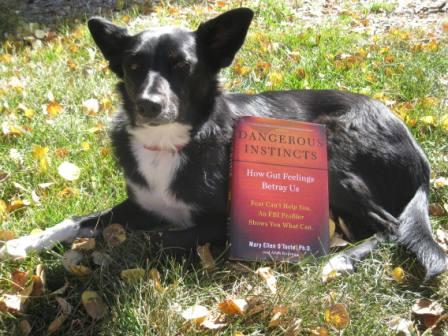 The dangerous instinct #1: "I have a dog, I don't need a home alarm."
The reality: While your dog might serve as a deterrent, skilled burglars know how to get around a dog. My co-author, for instance, lives in an area where a serial burglar ring is on the loose. The burglars have hit a number of homes with dogs. The police tell my co-author that the burglars are able to get past the dogs because they bring a Kong filled with peanut butter with them. They toss it into a room, the dog follows, and then the burglars have free reign over the rest of the home. In a worst case scenario, an offender could neutralize your pet, or even kill him with poison or a weapon.
The dangerous instinct #2: "I'm hiking with my dog, I don't need to bring my cell phone with me."
The reality: If you have not trained your dog to protect you, you have no way to know how your dog will actually react if someone attacks you. It's just as possible that your dog would run and hide or cower in fear rather than defend you. Also an offender can immobilize a dog, even a large one, very quickly. More important, what if you get into trouble that your dog can't help you get out of? For instance, what if you get lost or experience a medical emergency? What if you fall or become trapped? What if your dog gets injured or entrapped? Wouldn't you want a way to call for help? Carrying your phone with you is an important safety measure, both for you and for your dog.
The dangerous instinct #3: "That guy can't be dangerous. Look how cute his puppy is! Sure I'll give him a ride."
The reality: Serial killers and rapists own dogs, too. Dangerous people often use dogs and other pets as a ruse that allows them to gain access into someone's comfort zone. They will use pets to make them look normal and harmless. They know that dog owners tend to trust other dog owners, so they use the pet as a way to disarm their victims and gain their trust.
***
Note from Roxanne: I'd love to hear of any dangerous or potentially dangerous encounters you've had while out and about with your dogs. O'Toole's advice reminds me of this woman who was killed while hiking with her dog.
I'll confess my most recent not-so-smart thing I did over the summer. I picked up a young woman hitchhiker (something I NEVER do) in our canyon because she had a young puppy with her. She also had a couple creepy looking guys with her, but only she needed a ride.
Everything was fine. I drove her to the gas station in town. I bought her some gas, and she hitched her way back up the mountain with someone else.
I'd just read another friend's book about missing people, and this girl struck me as someone who someday might disappear and her family would never know what happened to her. In fact, on the drive down the mountain, I tried to talk her into calling her family and maybe "going home."
***
Author's Bio: Mary Ellen O'Toole, PhD, is a former FBI profiler and author of Dangerous Instincts: How Gut Feelings Betray Us (Hudson Street Press, 2011). She has tracked down, interviewed or studied some of the world's most infamous criminals including the Green River Killer (Gary Ridgway), the Serial Killer of Baton Rouge (Derrick Todd Lee) and the Unabomber (Ted Kaczynski). She also worked the Columbine, Elizabeth Smart, Polly Klaas and many other high profile cases. You can learn more about her and her book at MaryEllenOToole.com.
***
I just received my free review copy Friday, and it's in a stack of many books I've been asked to review … so once I've had time to read it, I might share other insights. But I'm so thankful for this relevant, helpful guest post … since last week went a bit sideways on me, and I'm short on time this week too.
And, in the interest of full disclosure, O'Toole's co-author is my colleague and friend Alisa Bowman. You might recall this post about Bowman's book on how she saved her marriage .