Product Review: Pro Active Balance (canine probiotics)
The canine intestinal tract plays such a HUGE role in overall health, so I've been intrigued with probiotics (and prebiotics) for awhile now. Impeccable timing landed a product review offer in my inbox just before Lilly's massive paintball poisoning. What better time to try something like this than right after our poor canine heroine got completely roto-rootered from both ends?
Lilly came home from the ER/ICU hospital empty. She weighed 35.2 pounds when admitted, and she weighed just 33 pounds on discharge (24 hours later), despite being flooded with fluids the entire time.
So, we gave Pro Active Balance a try.
Here are my thoughts:
Hard to Use if You Feed From Food Toys (not bowls)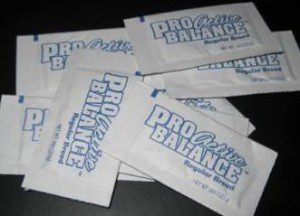 The product (a white powder) is designed to be sprinkled on a dog's food, but since we feed out of activity feeders, I feared getting powder all over the house.
Granted, I did feed Lilly from a bowl those first few days home because she was eating a homemade diet of boiled chicken and rice. BUT, after that, we simply dissolved the Pro Active Balance in water so that both dogs had access to it.
Hard to Know if It's Working
Unlike a glucosamine supplement, where it's quite clear (at least to us, with Ginko) that it's working, it's much harder to gauge general well-being from a product like this.
What to Expect
Out of curiosity, I shared product information and ingredients with a veterinarian I interviewed recently about something else. He is BIG TIME into pet nutrition and other supplements, so I value his insights [Ken Lambrecht, DVM, from Westside Family Pet Clinic in Madisen, WI].
His assessment began … "From my perspective this is pretty much all hype. They would need to say exactly what organisms and how many CFU's (colony-forming unit)…"
To help explain, he sent me this Probiotics Handout that he gives to his clients. I found it very helpful.
The new food I've been feeding both dogs for a few months indeed has probiotics in it. However, as Dr. Lambrecht and I have discussed for other articles I've written recently, there is a darn good chance that any heat in the food production process likely kills the "good" organisms.
So, it makes sense that we might need to supplement one way or another. In fact, Westside Family Pet Clinic recently included probiotics in its 2011 health resolutions for pets.
The Pet Supplement Market Has Slowed
And, yet, according to new data released just this week: "Absent a major industry event, Packaged Facts therefore does not expect to see sales of pet supplements return to the double-digit annual growth levels they enjoyed during the 2001-2005 period, although we do expect to see gradual and steady improvement.  Following zero overall growth in 2010, U.S. retail sales of pet supplements and nutraceutical treats should begin to pick back up in 2011, with the annual sales gains regaining steam through 2015.  By this account, the annual percentage increases will rise from 2.4% in 2011 to 6.5% in 2015, lifting sales to approximately $1.6 billion." – Pet Supplements and Nutraceutical Treats in the U.S., 3rd
Is This the Right Product for Us?
I'm not sure … for two reasons:
Concerns that it might not have enough of the useful things we'd expect in such a probiotic supplement
Concerns that it comes from a company that makes sweeteners and that 2 of the 3 ingredients are sweeteners
Pro Active Balance ingredients include:
Nutriose
Dextrose
Bacillus coagulans GBI-30 6086
Nutriose is a registered trademark name for a sugar substitute / fiber product.
Dextrose is essentially a sugar.
And, Bacillus coagulans GBI-30 is a "good" bacteria, but based on the materials provided, I don't know how much is in each dose.
I guess my question would be this: I just don't get how/why sweeteners improve a dog's digestive health. The professional skeptic in me wonders if this isn't just another way to sell more sweeteners by branching out into a new market … pets.
I honestly don't mean that as harsh as I'm sure it sounds.
I'm an eat-real-sugar kind of girl. Other sweeteners creep me out. I'd rather have the real thing — sugar, butter, eggs. (I also recently saw the movie The Informant, if that explains things any better.)
I asked the company's PR reps about it.  Daniel Herndon explains, "The sweetener ingredient is a bulking agent so that it can be applied to food the way recommended for ease of use."
I suppose that makes sense, but I think I'd still like to see more detail on how much bacteria is in each serving … and maybe even a greater variety of bacteria.
ADDITION TO POST (about 1:45 pm)
I asked about the CFUs and all that earlier in the week, and I just got the following reply back from Anna Batio, so I'm adding to this post.
CFU's per serving of Pro Active Balance:
Regular Breed                120 million
Large Breed                   240 Million
Equine                           1.2 Billion
Through studies by AFB, ingredient company in the pet business, the recommendations for:
Dogs 50#'s or less         100 million
Dogs 50#'s or larger    200 million
Horses                               1 Billion
Anna  tells me that they went over a little bit because "probiotics are very sensitive to shelf life and the digestive system."
She adds,  "By the time our probiotic hits the gut, it has about an 80% survival rate.  This is very high for Robotics."
The bacteria strain chose is highly stable strain and can survive shelf life, (2 years), water, the digestive tract.  Most options on the market can't do that.
See attached.  The robotic we use is BC-30 from Gained, a bio tech company out of Cleveland, OH.
***
What do you think? I have some left over, if any of you would like to try it out.
***FTC Disclosure***
Many thanks to the Pro Active Balance team for letting us try the product for FREE.